Capacity building trainings for community volunteers
Goalpara district is one of the most vulnerable district of Assam. In the year 2014-15 it was worst hit by floods due to cloud burst and unprecedented rains. Besides providing health care responses DFY-NERO has been conducting various capacity building trainings in the district in association with Assam State Disaster Management Authority in the month of March 2016.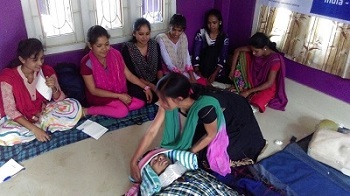 DFY in Coordination with Islamic relief worldwide, Goalpara, conducted a community level training on capacity building and resilience and shelter support in flood affected areas of Goalpara district, Assam. The training was scheduled for two days and the target population was community volunteers. Detailed sessions on first aid, basic life support, water sanitation and hygiene (WASH); extrication and psychological first aids were facilitated by resource persons from DFY-NERO.
Emergency Management Exercises (EMEx) in various districts of Assam
Emergency Management Exercise (EMEx) is a capacity building weeklong exercise conducted to test the response mechanism of the district administration as well as the community members of a certain community. The exercise is designed to optimize the strengths and of various line departments/institutions/organizations that are responsible for carrying out the emergency response mechanism of the affected community during the time of disasters. The aim of EMEX is to prepare the community at district level for any large scale emergencies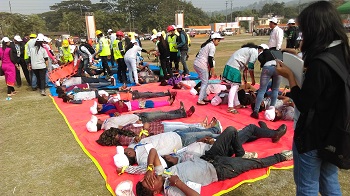 This exercise includes a series of events, i.e. trainings n various tracks, workshops followed by table top stimulation exercise and field drills. During the first three days of the exercise, trainings of trainers from various departments are trained by various agencies. Doctors For You is one of the lead organisations which undertakes trainings in four of the most important tracks, i.e. Public Health In Emergencies, Community Based Disaster Preparedness, and Mass Casualty handling for nurses and paramedics and hospital disaster preparedness. DFY also facilitated the table top exercises in the EMXEs. The purpose of the training is to enhance the ability of participants to learn essential skills and knowledge in emergency situations
The field drill is conducted at district level and the district, administration as well as the regional emergency responders, educational departments, hospitals and other health facilities, health care professionals, humanitarian agencies, members of the community, NGO's civil society organizations takes part in the drill to test the real time inter agency coordination and how emergency response mechanism is activated by all the stakeholders.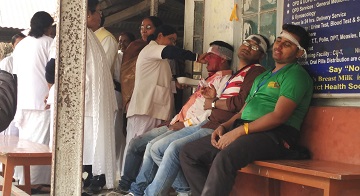 EMEx provides a platform for the participants to build up inter agency communication and coordination for responding to disasters/emergencies. It helps developing practical skills for emergency managements of mass casualty events. EMEX also serves an important tool for evaluating and assessing the capabilities of the emergency responders and to test the existing plans and identify the gaps of the system to deal with mass casualty events.
Two of the most important tracks on which DFY was facilitating trainings are Hospital preparedness and emergency management and Mass casualty handling for nurses and paramedics.
1. Hospital preparedness and emergency management: While EMS and other first responders provide trauma care in the disaster setting, the hospital will be the prime destination for survivors seeking emergency care. This course on hospital emergency preparedness aimed at enhancing the ability of the hospital management to efficiently intra hospital care during mass casualty events. With considerations of surge capacity and available local resources, participants are being provided an orientation to develop the Hospital Emergency Response System, activate the plan in real time, coordinate patient care at all level and effectively assess and mobilize hospital resources to provide patient care to the maximum. Doctors from various health facilities both government and private and hospital administrators are the target groups of this track
2. Mass casualty handling for nurses and paramedics: the course has been carefully designed to give first responders-EMS/ paramedics/nursing staffs working in the hospitals the skills, knowledge and confidence to provide critical and immediate care in disaster settings. This course deals with various emergency and mass casualty handling topics like, extrication, log-roll and patient transportation, psychological first aid and triage. DFY-NERO facilities a total of 9 EMEx's in the district of Bongaigaon, Kamrup metro, Nalbari, Lakhimpur, Dhemaji, Dhuburi, Darrang, Sonitpur, Tinisukia and Sivasagar.